Achievement
At Hermitage we have high expectations for all of our children, and we believe that children work best and achieve well if they enjoy learning, feel proud of what they can do, if they are told about what they have done well and if they can share their success with the school community.
We celebrate success through our Star of the week assemby, where individual and class achievement is shared and our "stars" join our galaxy of stars display.
Individual work successes are fed back to the children through marking, where two stars will tell children what they are doing well- they will also get a target to help them with the next steps in their learning.Children are asked to check their learning and edit their work- look out for their green pen responses in their books!
Hermitage School awarded London Gold Club status for exceptional educational achievements
In 2014 Hermitage School in Tower Hamlets was awarded Gold Club status under a scheme set up by the Mayor of London Boris Johnson to recognise exceptional schools in the capital. The Gold Club is part of the Mayor's drive to help drive up standards and raise attainment for all schoolchildren wherever they live in the capital and regardless of background.
The Gold Club celebrates schools that are achieving academic success with all their pupils, in particular those where they may be disadvantaged or be affected by circumstances that could have an impact on their learning. In highlighting schools that are 'bucking the trend', particularly those with children on Pupil Premium or previously low attainment, the aim is to inspire others in London to strive for similar academic success and offer them the chance to learn the best practice in the classroom of the Gold Club schools.
The Mayor of London Boris Johnson commented: 'Congratulations to Hermitage School and all the other schools that have been recognised by our Gold Club programme. The Gold Club is based on the belief that all schools can aspire to attain excellence for all their pupils, whatever their circumstances. London schools are already doing well when compared to the rest of the country, but each of our Gold Club schools is making even great strides with their pupils. There is no one size fits all approach to raising standards, but we hope other schools will be able to benefit as a result of seeing what others in the capital are doing to achieve academic excellence. I see Gold Club schools as exemplars because they enable terrific results for all their young people'.
Hermitage was one of 95 schools that was awarded Gold Club status in 2014, year two of the scheme. They are being asked to share their good practice through seminars and hosting visits to their school so that other schools can learn from a range of approaches that have delivered success and achieved extraordinary performance of their pupils.
Zoe and Karen receiving the Gold club award with other Tower Hamlets Schools - left to right
Grahame Price, Executive Headteacher St Paul's Way Trust School, Jeremy Iver and Joanna Franklin, Headteachers Bygrove and Stebon Primary Stuart Poyser, Chair of Governors Bygrove and Stebon Primary School, Tracey Argent, Headteacher of Woolmore Primary School, Zoe Howe, Headteacher of Hermitage Primary School,Karen Attard, Deputy Headteacher of Hermitage Primary School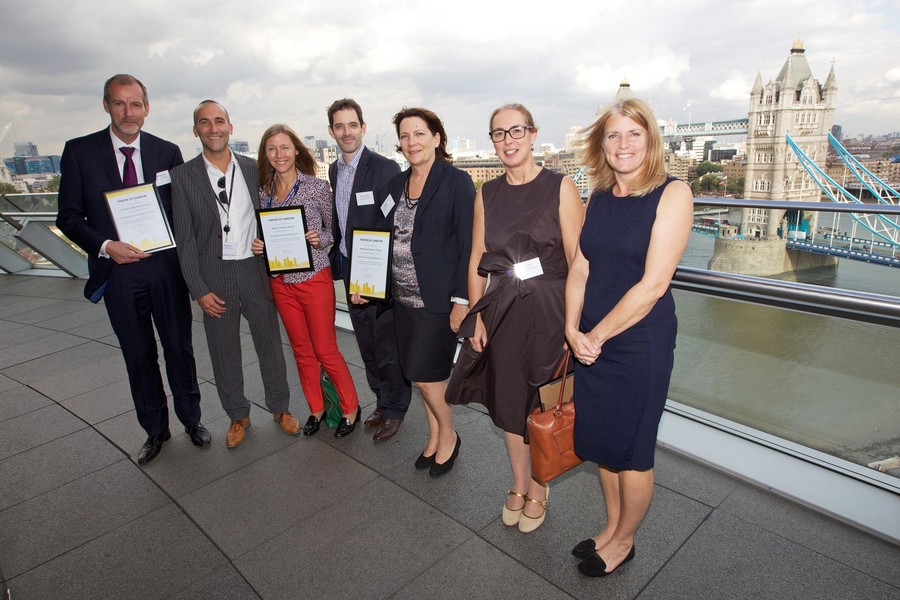 How well do we do compared to other schools nationally?
Hermitage children did extremely well last academic year, with children making better progress other children nationally in nearly every area, from the reception all the way through to year 6.
Hermitage also received two SSAT acheivement and progress awards for being in the top 10% of Primary schools for outstanding pupil premium impact and top 10% of Primary schools for outstanding pupil progress
This addresses the OFSTED issue of "raising attainment … by July 2012"
Achievement of pupils in the school 14- 15
How well are the children at Hermitage doing, compared to other children nationally?
This is the data that has been released so far by the Department for Education. It is still subject to validation and the school has requested the checking of some children's results.
Click here to find Hermitage results on the Department for Education website